To Russia with Love - The young ballet star
What is it like to see your 16-year-old daughter move to Russia,
to join one of the world's toughest and most prestigious ballet schools?
And what is it like to be the far-flung daughter?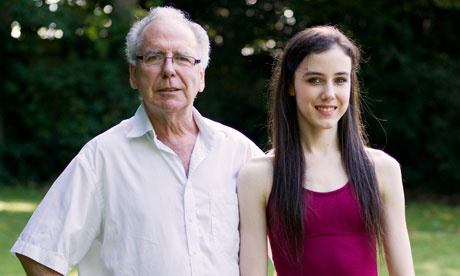 Ian and Isabella at home in Buckinghamshire.
Photograph: Pal Hansen for the Observer
IAN MAYES, IN THE UK
Isabella was just 16 when she went to Russia. She was 19 in August. For me she was, in Laurie Lee's expression, "a late fall": I was 56 when she was born. The two things people tend to say when they learn I have a teenage daughter studying ballet in Russia are: "You must be very proud," and "How could you let her go?"
She is the only English girl at the Vaganova ballet academy in Saint Petersburg. The school has a historic and close relationship with the Mariinsky ballet company. Under communism it was the nursery for the wealth of homegrown talent possessed by the Mariinsky's nominal predecessor, the Kirov, and before that it was the Imperial ballet school. Isabella loves being there, I'm happy to say; as otherwise, more than 1,000 miles from home, she probably wouldn't have survived the tough demands it makes. It's love it or leave it.
Like her mum, I am proud – proud but not pushy, I hope. Perhaps here I should say that Isabella's mum, Ann McGuire, is the frontline person.
READ MORE:
.
.